Eating bananas can cheer you up thanks to the combo of tryptophan plus Vitamin B6, which team up to produce seratonin, and we ALL know how chocolate can make any day brighter! Find your happy place with this sweet, irresistible, and 100% guilt-free treat. Feel free to celebrate, but don't forget to share the joy :)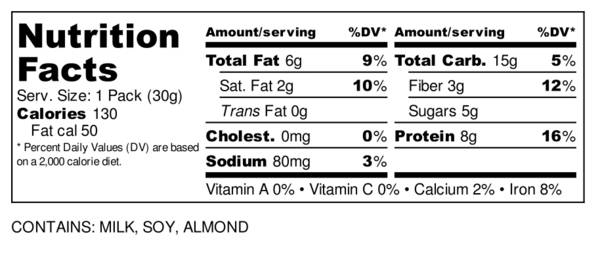 May contain other tree nuts. Packaged in the same facility that also processes peanuts, tree nuts, soy, wheat, and milk ingredients.
INGREDIENTS: MOCHA ESPRESSO COOKIE PUFFS (NON-GMO SOY PROTEIN ISOLATE, NON-GMO YELLOW CORN FLOUR, NON-GMO RICE FLOUR, PEA FIBER, NON-GMO SOY FLOUR, TAPIOCA STARCH, ALMOND BUTTER, SUGAR, COCOA PROCESSED WITH ALKALI, NONFAT MILK POWDER, COFFEE BEANS, CARAMEL [COLOR], VANILLA EXTRACT, XANTHAN GUM, BAKING POWDER, STEVIA), ORGANIC BANANA CHIPS (ORGANIC BANANAS, ORGANIC COCONUT OIL, ORGANIC SUGAR), ORGANIC DARK CHOCOLATE SUNFLOWER SEEDS (ORGANIC CHOCOLATE LIQUOR, ORGANIC COCOA BUTTER, ORGANIC SOY LECITIHIN, ORGANIC VANILLA, ORGANIC SUNFLOWERS KERNELS, CONFECTIONER'S GLAZE, ORGANIC GUM ARABIC).